Redmoor Health, the primary care change and improvement specialists behind NHS England's Digital Journey Planner, and Primary Care Analytics, the primary care data experts, have come together to develop a unique data visualisation tool that will give PCNs and GP practices the ability to view and break down information in a way that will enable them to baseline, benchmark and improve their services in line with the latest guidance and priorities, whilst minimising variation across their PCN.
The unique collaboration uses data extracted from national, regional, local and individual sources, and pulls it into an easy-to-understand user interface that they have called their 'Digital Maturity Index'. This helpful tool allows for the visualisation of data such as Patient Online Access, Patient Experience, and other improvement markers, and can be focused down from a national, regional, local PCN or individual practice level; allowing primary care leaders to understand and reduce variation across their PCN.
Having comprehensive and easy to understand access to this information allows for improvement plans to be data-driven, with accurate baselines and SMART benchmarks for improvement, which is not only more cost-effective, but also helps practices meet the necessary requirements to receive the final 30% of Capacity and Access Improvement funds. Used alongside the Digital Journey Planner, it gives practices an accurate dataset and step-by-step guide for improvement.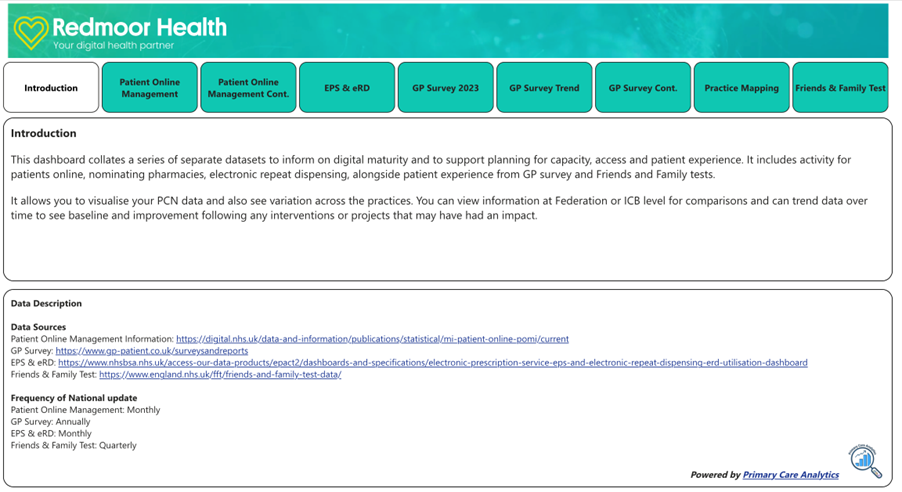 'This data has always been invaluable to primary care leaders but accessing it and presenting it in a way that made sense and allowed for improvement just hadn't been developed' says Conor Price, CEO of Primary Care Analytics.
'The NHS has lots of data available, but often held in multiple places and used for different needs across the system.  We felt that building something that was easy to access and use for practices and PCNs that was all in one place would save valuable time; as well helping to see the opportunity for improvement and demonstrate evidence of any progress made' says Lisa Drake, Director of Quality Service & Improvement at Redmoor Health.
'Our commitment to developing tools that truly add value to digital health transformation is at the heart of what we do, and this partnership is a great example of that.' says Marc Schmid, CEO of Redmoor Health.
To find out more about this partnership and the Digital Maturity Index tool, contact hello@redmoorhealth.co.uk