Good patient communication is essential for primary care and GP practices, as it helps to create a positive experience for patients and build trust with patients
When we talk of communication in General Practice, the idea of phoneline and practice receptions may come to mind however there are several way practices can communicate with patients indirectly & more effectively
One of the main ways GP practices can communicate with patients effectively is by providing easy access to information online. This is often done via a practice website as having a website allows patients to find information about the services available at the practice, this way patients can easily find out what the practice offers and make appointments without having to call or visit the practice in person.
However, practice websites are not aways designed with every patient in mind.
People with disabilities can sometimes struggle to use websites that are not designed with accessibility in mind. Websites that don't consider accessibility may contain visuals, audio, or animations that are not compatible with screen readers or other assistive technology. Additionally, some websites may have complex navigation or interface elements that are difficult to use with a keyboard or other assistive device, leading to a portion of the patient population unintentionally excluded from good communication especially when those with disability can stand to gain a lot from a well-designed website.
However, even if your website hasn't been designed with accessibility in mind there are still some simple changes that can be made to a website to improve its general accessibility. Here are some tips that can help make your website more accessible:
Provide alternative text for images, charts and diagrams. This will enable screen-reader technology to provide textual descriptions of the visual elements.
Ensure that all content is properly labelled and organized. Structure your website's navigation and headings in an intuitive way so visitors can easily find and understand information.
Use descriptive links. Make sure that all links have meaningful text that clearly indicates where the link will take visitors.
Give users control over how content is presented. Allow them to change the font size, color contrast, and other graphical elements to suit their individual preferences. This can be enabled through website widgets.
Provide keyboard access. Ensure that all interactive elements, such as buttons and forms, are accessible with a keyboard.
Test your website. Use automated tools and manual testing to check for accessibility issues and ensure that your website is usable by everyone.
By making your website more accessible, you'll also be making it more usable and enjoyable for all visitors.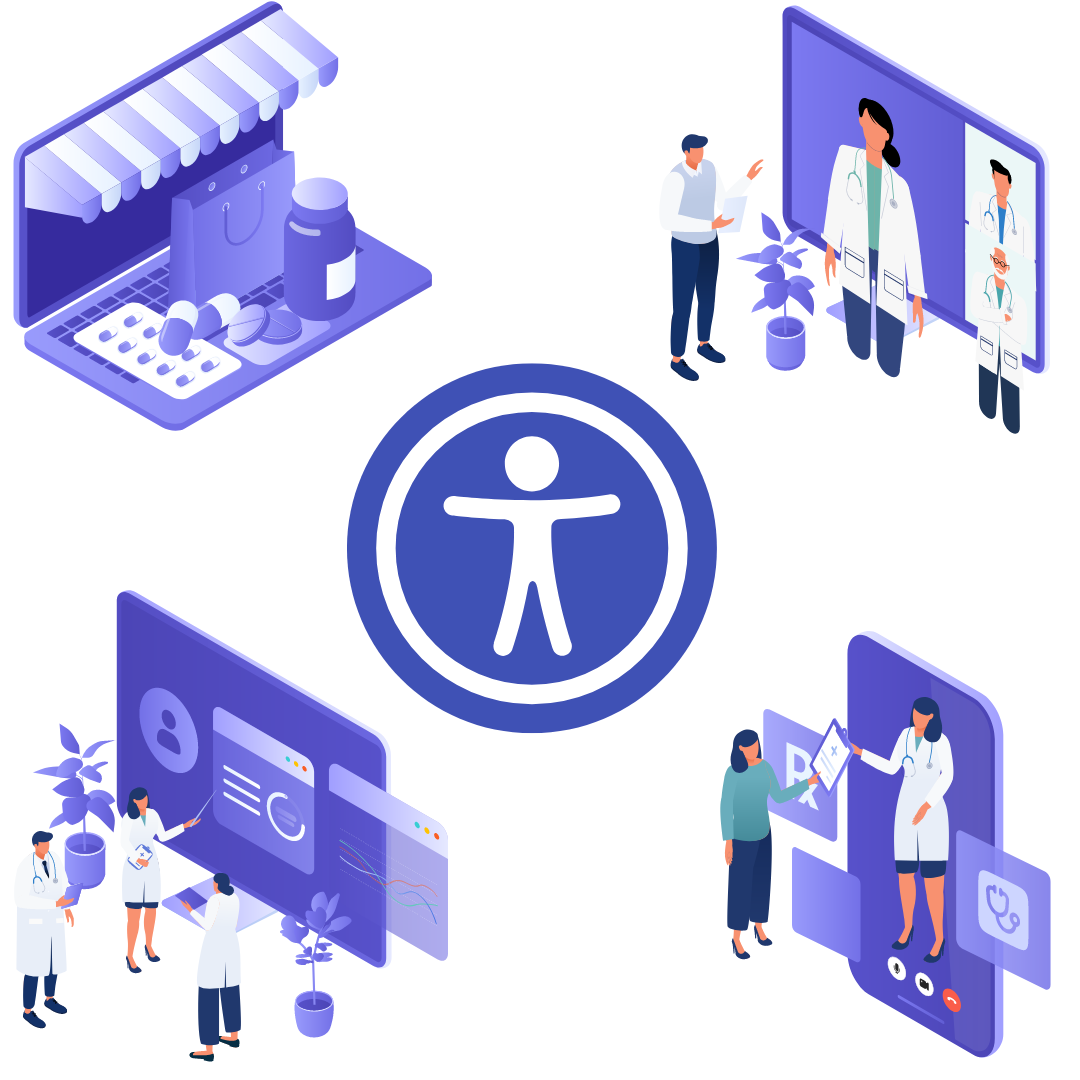 Redmoor Health is a long-time supporter of general practice and we are passionate about digital inclusion which is why we've created a range of support for practices in relation to this topic.
Redmoor provides website audit services with accessibility in mind. Our web reviews give you data-driven information about your website and how it's performing from both a technical and a patient experience perspective. We can provide all the information you need to ensure your website is effective, compliant, and accessible for all your patients. You can book an audit for your site with our team at hello@redmoorhealth.co.uk
The Digital Journey Planer is an online self-assessment system for GP practices, we have developed the system with NHS England, to optimise general practice knowledge, understanding and processes, with the aim to improve patient experience. One of our most recent modules has been Digital Inclusion which focuses on helping you, the user with all aspects of your digital inclusion. You can find out more info about this tool and get access to the Free patient communication module here: https://www.redmoorhealth.co.uk/cms/djp.html
Blog by Dr Rahul Goyal
Before joining Redmoor Rahul worked as the clinical lead of the region-wide Health information exchange (HIE), shared care record commissioned by the Department of Health Abu Dhabi, UAE, prior to that Dr. Goyal worked for Mediclinic. During his tenure at Mediclinic, he assumed the role of Physician Lead Informatics and was involved in various healthcare information and digital transformation projects, leading the physician-focused adoption aspects of systems such as electronic health records and other synergistic technologies, he continues to practice as Consultant Family Medicine at Mediclinic Middle East, as a part-time engagement.
With over 20 years of experience as a GP, Dr. Goyal worked as a partner in various UK practices. Before completing his training as a GP, he trained as a higher specialist ophthalmologist.
Dr Goyal was also elected as one of the "Future 50 Clinical leaders in Healthcare IT by HIMSS" in 2019. He is a Member of the Royal College of General Practitioners and the Royal College of Ophthalmologists UK. In 2020, he was appointed as Adjunct Clinical Assistant Professor at Mohamed Bin Rashid University in Dubai, UAE.
"Technology should be invisible in a consulting room, it's just about the clinician and the patient, technology should be no more than a tool, a… stethoscope of the modern age".