I'm a little late to the party with this blog, and others have already shared their thoughts and enthusiasm about #LettersHack – Rethinking patient correspondence (Eventbrite link for details) held on 12 Oct 22. If you're curious to know what others enjoyed about the day, check Twitter and LinkedIn using the #LettersHack tag.  Also, please do read the write up from Hilary Stephenson, MD, Nexer Digital, 'Is there a Doctor in the room?
I wrote one of my first blog posts about improving patient communication and the opportunity to use digital solutions to improve patient experience in 2018, after a series of missed opportunities with appointments, cancellation, rebooking, transfers of information between health care providers, all which prompted me to share my experience.  Four years on, it appears from the many examples of where it goes wrong, there is more complexity than ever.
#LettersHack planning started before the Covid19 pandemic, with a desire to improve letter content, so that users of health and care services would not miss vital healthcare appointments.  Good patient communications help people to understand what has happened, what to expect next and feel included in their healthcare journey.  As a result of the rapid expansion of remote modes of contact and service delivery, we extended the scope of the event to consider the multiple modes of communications now in use.
My part in the day was to set the scene for some of that rapid change in General Practice, but most importantly to state from the start; people don't set out to do this badly and are often blissfully unaware of the consequences of poor communication.  There are many constraints in the systems or software available to General Practice and this 'stuff' can make communicating it harder to do.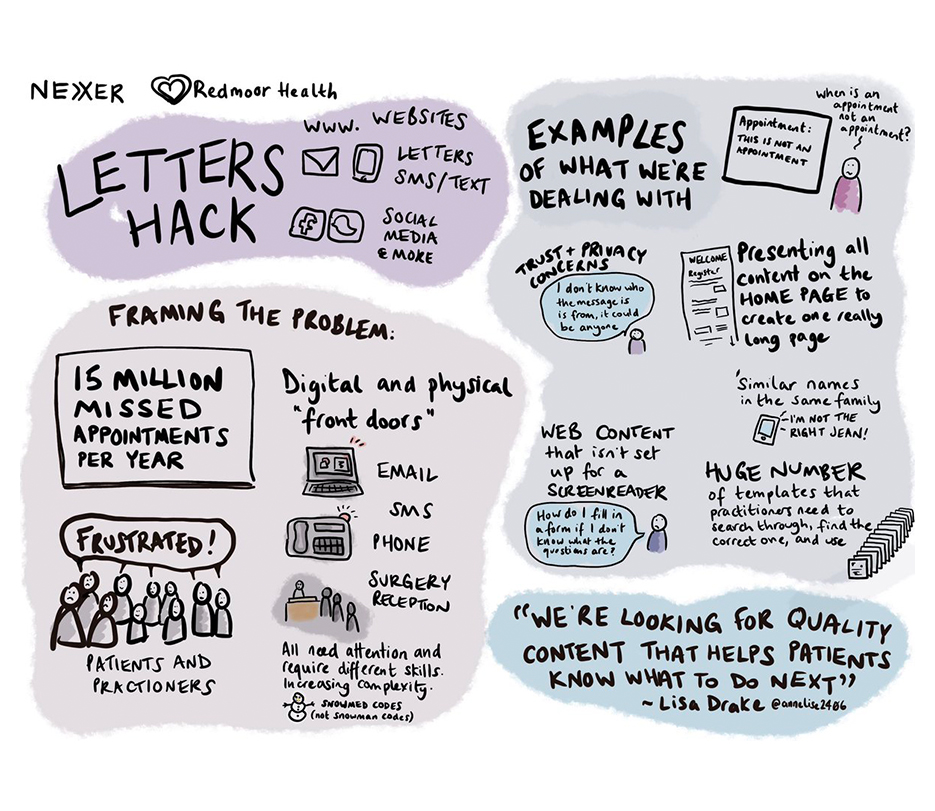 Many 'internal thinking' configuration choices were never envisaged to become visible externally to patients or other parts of healthcare.  Electronic patient records weren't designed with patient visibility as a factor, and we are seeing this very challenge played out now with concerns and delays to the online records access programme.  I attempted to share some of these challenges; lack of time, poorly designed products, changes in regulation, societal norms and policy, and often, where the tech just hasn't caught up.  I offered plenty of examples of unintended consequences where communication just doesn't achieve its aim, may have caused frustration, confusion, or concern, or just wasted people's time.
At Redmoor Health, we feel passionate about supporting General Practice and offer lots of help and advice to front line teams to deal with these daily challenges. It was lovely to work with the Nexer team on this event, bringing their inclusivity and service design thinking to our digital communications and change, training and support programmes and we look forward to further events together.
We all know the NHS is under extreme pressure, in fact someone commented in the session that 'it's broken'.  At the same time, many of us are patients and active citizens who want to get this right and help where we can.  There was definite sense in the room of 'we can do this better' without blame or criticism. In fact, Emma Parnell, Founder of Design for Joy, hit the nail on the head during her wonderful set, 'Let's talk about sex' with the question, 'How can we use our collective experience and influence to make a difference?'
Emma's talk really drove home the absolute need for NHS services and systems to be inclusive, and the need also to question why we collect some data, along with how we do that in a way that makes people see themselves and feel comfortable accessing essential services.
Sarah Wilcox, Senior Content Designer, NHS Digital was equally inspiring, sharing her personal experience of less than effective communication (I'm being kind – the experience was rubbish) and walked us through the wonderful thing that is the NHS digital service manual, emphasising the importance of inclusive language to ensure broadest reach of the population, through the elements of the content style guide.
These were perfect examples of using our personal experiences to do something positive about it.  The mix of people in the room provided us with an opportunity to consider many perspectives. Some offered insight into the setting of standards; core content requirements, timeliness of delivery of information, items that should be communicated between hospital and GP.  Others, led strategic IT programs of delivery, such as covid vaccination invitations and vaccination recording.  There were people who designed and delivered products to support General Practice with websites, communication and messaging systems, applications to access transactional services to help people order prescriptions, book and cancelling appointments.  Most importantly, everyone felt aligned in their desire to improve the experience for users; and that's people who both receive and deliver communications.
We chose to three main categories of communication to unpick;
Broadcast – using social media and websites
Targeted – using message systems to deliver public health campaigns
Personalised – using individually tailored content, via messages, letters, or even phone calls.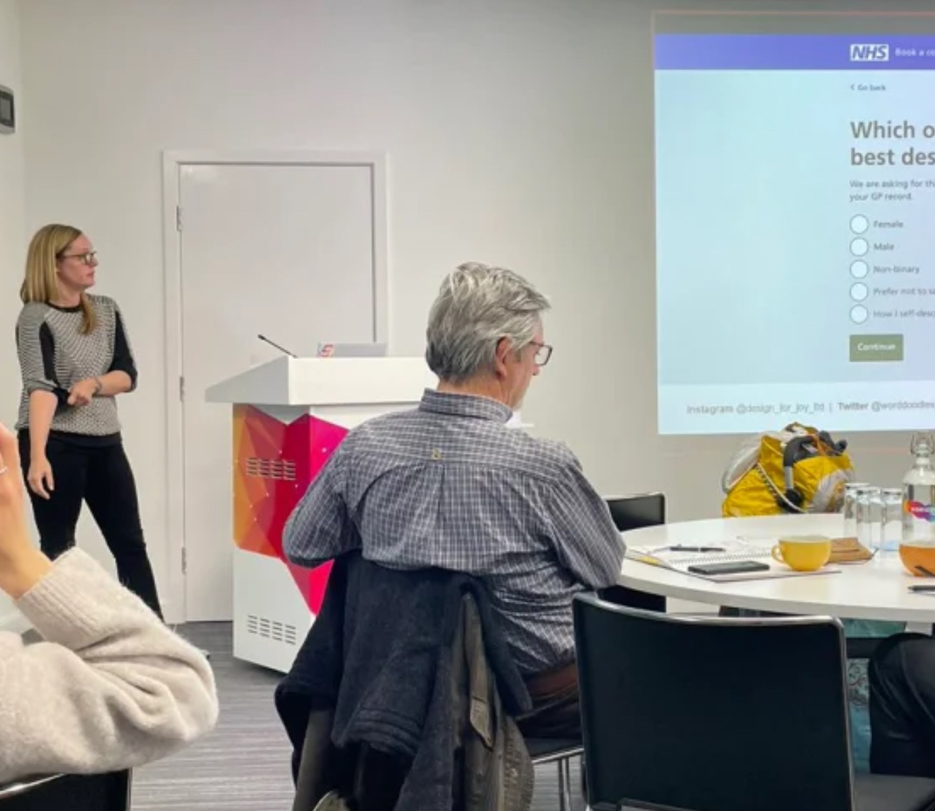 The afternoon breakout sessions had plenty of examples of communication to scrutinise and rethink or rewrite.  Our group task was to consider 'How do we use social media to maximise uptake of public health screening, whilst acknowledging the diverse communities we serve?'  We considered why people are nervous about some procedures, what they would want to know before attending, where we could find trusted information to back up short, impactful messages that reach the many different sections of the population.  Fascinating discussion was held on what is and isn't humour and plenty of chuckles about references to cats and dogs – even the Kama Sutra and a need for a modern etiquette guide to reflect today's diversity – genius.  We had rich, powerful, and engaging conversations that rarely happen over Teams meetings!  We also realised that these events don't work well as hybrid, our sincere apologies to the people at home who only got to see torsos, rather than faces due to camera angle.
Social media has great potential to reach diverse communities and many surgeries now take advantage of our support with public health campaign messages.  Recognising time pressure, the Redmoor team help by creating content, administering pages, scheduling, and boosting posts to reach specific targeted audiences and have seen an increased reach and uptake of health screening as a result.  If you'd like to know a bit more, check our social media managed service information.
When it comes to websites, and integration with online services and consulting, we can also help NHS Teams and practices to smooth that patient or user journey, so that the practice and patients gets the best out of whatever system is available to them.  We've created digital journey planner to help staff to self assess their digital service delivery.   Three modules are already available to support good patient communication, GP online services and digital inclusion, with lots of learning materials to inform about websites, inclusive communications, effective use of messages etc.
Over the coming months, Nexer will continue to gather examples of patient communications, good and not so good on their airtable platform in the hope of creating good content library and guides in future sessions.  Iatro also have a commons library to share good website content for GP Practices.  Drop yours in via any of the social media platforms with #LettersHack tag and we'll pick them up.
I can't wait for the next session. Thank you to everyone who joined and made it so good.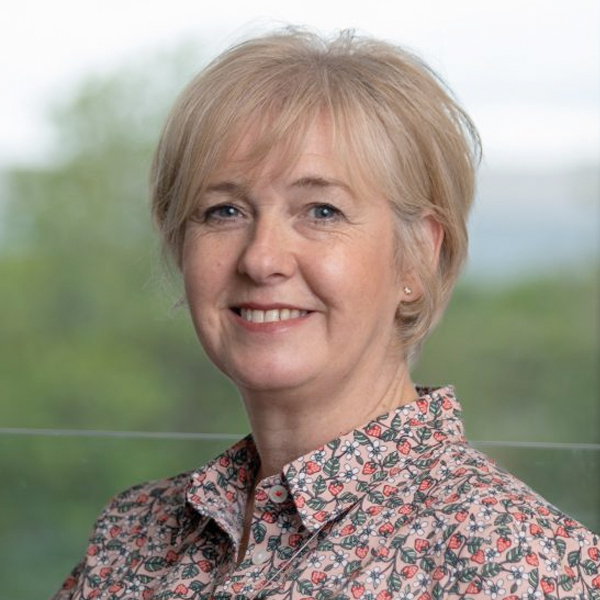 Blog by Lisa Drake
Lisa supports commissioners at CCG/ICS & Regional level to help to deliver system change and modernise general practice. With almost 20 years experience in the NHS, as an ex-commissioner and Practice manager, Lisa's work also involves advising practices and PCNs how to improve patients' digital experience; how to deliver full range of GP Online services and streamline general practice workload. In addition to her role at Redmoor, Lisa remains in the NHS as a Digital Advisor in a practice in the Lake District.
Lisa is a mature student of the Open University specialising in Social Policy, Health and Care communications and relationships and is a member of the Expert Advisory Group for the Remote by Default Research with Nuffield Primary Care Health Sciences and University of Oxford.